CHINA-PAKISTAN ECONOMIC CORRIDOR AND GEOSTRATEGIC DEVELOPMENT IN THE MIDDLE EAST
Abstract
Regional connectivity is one of the aims of the China–Pakistan Economic Corridor (CPEC). Positive effects of CPEC will be felt throughout the region, including in Iran, Afghanistan, the Central Asian Republic, and beyond. Improved roads, rail,  air transportation, more frequent and free exchanges of growth, people-to-people contact, increased understanding through academic, cultural, and regional knowledge, increased trade and business activity, increased production and movement of energy for more efficient business operations, and increased cooperation based on a win-win model will all contribute to a more connected and integrated region. The Belt and Road Initiative (BRI) is an important step toward regionalizing the global economy. It created a framework for harmony, growth, and mutual benefit. The China–Pakistan Economic Corridor represents future prosperity, stability, and peace in the area. We analyses how CPEC will impact China's economic and geopolitical ties to the Middle Eastern countries, focusing on the Gulf Cooperation Council states (Bahrain, Kuwait, Oman, Qatar, Saudi Arabia, and the United Arab Emirates) and Iran. Most of these nations rely heavily on commerce with China and export great amounts of oil and natural gas to China. These countries are also crucial investment partners for China because of the large amounts of money generated from oil exports.
References
Agency, A. (2022, January 6). 1st train in decade on Pakistan-Iran-Turkey route reaches Ankara. Daily Sabah. https://www.dailysabah.com/business/transportation/1st-train-in-decade-on-pakistan-iran-turkey-route-reaches-ankara
Ahsan Jamil, M. (2016, July 25). CPEC:A Source of Competition and Cooperation in South Asia. Centre for Pakistan and Gulf Studies. https://cpakgulf.org/2016/07/25/cpeca-source-of-competition-and-cooperation-in-south-asia/
Ali, D. (2020) Gwadar Port as an Economic Zone its impact on Region."
Ashgabat Agreement - India's Membership in Ashgabat Agreement, Facts for UPSC GS-II. (n.d.). BYJUS. Retrieved from https://byjus.com/free-ias-prep/ashgabat-agreement/
Baqai, H., & Wasi, N. (2021). Pakistan-Afghanistan Relations: Pitfalls and the Way Forward.
Blah, M. (2018). China's Belt and Road Initiative and India's Concerns. Strategic Analysis, 42(4), 313–332. https://doi.org/10.1080/09700161.2018.1482631
Coenen, J., Bager, S., Meyfroidt, P., Newig, J., & Challies, E. (2020). Environmental Governance of China's Belt and Road Initiative. Environmental Policy and Governance, 31(1), 3–17. https://doi.org/10.1002/eet.1901
Eickelman, D. F. (1989). The Middle East: An Anthropological Approach. In Google Books.Prentice Hall. https://books.google.com.pk/books/about/The_Middle_East.html?id=hTmAAAAAMAAJ&redir_esc=
Fadda, P., Gianfranco, F., Simona, M., Claudia, P., & Patrizia, S. (2020). Design and optimisation of an innovative two-hub-and-spoke network for the Mediterranean short-sea-shipping market. Computers & Industrial Engineering, 149, 106847. https://doi.org/10.1016/j.cie.2020.106847
Garlick, J. (2018). Deconstructing the China–Pakistan Economic Corridor: Pipe Dreams Versus Geopolitical Realities. Journal of Contemporary China, 27(112), 519–533. https://doi.org/10.1080/10670564.2018.1433483
Gurt, M. (2014, December 3). Landlocked Central Asia gets shorter railway link to Persian Gulf. Reuters. https://www.reuters.com/article/turkmenistan-railway-idINKCN0JH1Q820141203
Habibi, N., & Yue Zhu, H. (2020, January 22). What CPEC Means for China's Middle East Relations. Thediplomat.com. https://thediplomat.com/2020/01/what-cpec-means-for-chinas-middle-east-relations/
Hu, J. (2003). Text of the speech by Chinese President Hu Jintao given to Australian federal parliament.
Hussain, F., & Hussain, M. (2017). China-Pak economic corridor (CPEC) and its geopolitical paradigms. International Journal of Social Sciences, Humanities and Education, 1(2), 79-95.
Hussain, Z. (2017). The China-Pakistan economic corridor and the new regional geopolitics. IFRI-Center For Asian Studies, Asie-Visions, (94).
Ibrar, M., Mi, J., Mumtaz, M., Rafiq, M., & Buriro, N. H. (2018). The Importance of China-Pakistan Economic Corridor from Regional Development Perspective. 31st International Business Information Management Association (IBIMA 2018), Milan, Italy.
Kalim, I. (2017). China Pakistan Economic Corridor – A Geo-economic Masterstroke of China. A Research Journal of South Asian Studies, 32(2), 461–471. https://www.academia.edu/35987883/China_Pakistan_Economic_Corridor_A_Geo_economic_Masterstroke_of_China
Kumar, S., Kwon, H.-T., Choi, K.-H., Hyun Cho, J., Lim, W., & Moon, I. (2011). Current status and future projections of LNG demand and supplies: A global prospective. Energy Policy, 39(7), 4097–4104. https://doi.org/10.1016/j.enpol.2011.03.067
Liu, Junzhi. The "Belt and Road Initiative" and China's Grand Strategy Making How China Transforms Itself into the "Center of Production and Trade" and a "Norm-Maker." Apr. 2020, pp. 1–351, kclpure.kcl.ac.uk/portal/files/139879174/2020_Liu_Junzhi_1636065_ethesis.pdf.
Mehmood Hussain, & Ahmed Bux Jamali. (2019, June 29). Geo-Political Dynamics of the China–Pakistan Economic Corridor: A New Great Game in South Asia. ResearchGate; Springer-Verlag. https://www.researchgate.net/publication/334113647_Geo-Political_Dynamics_of_the_China-Pakistan_Economic_Corridor_A_New_Great_Game_in_South_Asia
Naz, A. (2018). China-pakistan Relations and Regional Development in the Context of China-Pakistan Economic Corridor (CPEC). Journal of Business and Social Review in Emerging Economies, 4(2), 163-172. https://doi.org/10.26710/jbsee.v4i2.497
Omar. (2018, December 21). Newly inaugurated Lapis Lazuli Route opens doors for Afghan exports to Europe. Salaam Times. https://afghanistan.asia-news.com/en_GB/articles/cnmi_st/features/2018/12/21/feature-01
Pant, H. V., & Mann, A. S. (2023). India's Challenge to the BRI: Shaping the Global Normative Consensus. The Palgrave Handbook of Globalization with Chinese Characteristics, 459–473. https://doi.org/10.1007/978-981-19-6700-9_27
Regional spotlight: Oil & Gas in Central Asia. (2021, May 28). ADI Analytics. https://adi-analytics.com/2021/05/28/regional-spotlight-oil-gas-in-central-asia/#:~:text=Kazakhstan%20is%20the%20main%20oil
Rimmer, P. J. (2018). China's Belt and Road Initiative: underlying economic and international relations dimensions. Asian-Pacific Economic Literature, 32(2), 3–26. https://doi.org/10.1111/apel.12247
Roshan Tanoli, J. (2016). Comparative Analysis of Gwadar and Chabahar: The Two Rival Ports. Centre for Strategic and Contemporary Research. https://cscr.pk/pdf/rb/RB%20_GwadarvsChabahar.pd
Siddiqa, A. (2021). Pakistan-GCC Relationship: Reframing Policy Trajectories. Strategic Studies, 41(1), 87-102.
Stanzel, A. (2022). China's path to geopolitics: Case study on China's Iran policy at the intersection of regional interests and global power rivalry.
Wolf, S. O. (2020). The China-Pakistan Economic Corridor of the Belt and Road Initiative. In Contemporary South Asian Studies. Springer International Publishing. https://doi.org/10.1007/978-3-030-16198-9
World Bank in Central Asia. (n.d.). World Bank. https://www.worldbank.org/en/region/eca/brief/central-asia
Wright, R. B. (1996). Islam and Liberal Democracy: Two Visions of Reformation. Journal of Democracy, 7(2), 64–75. https://doi.org/10.1353/jod.1996.0037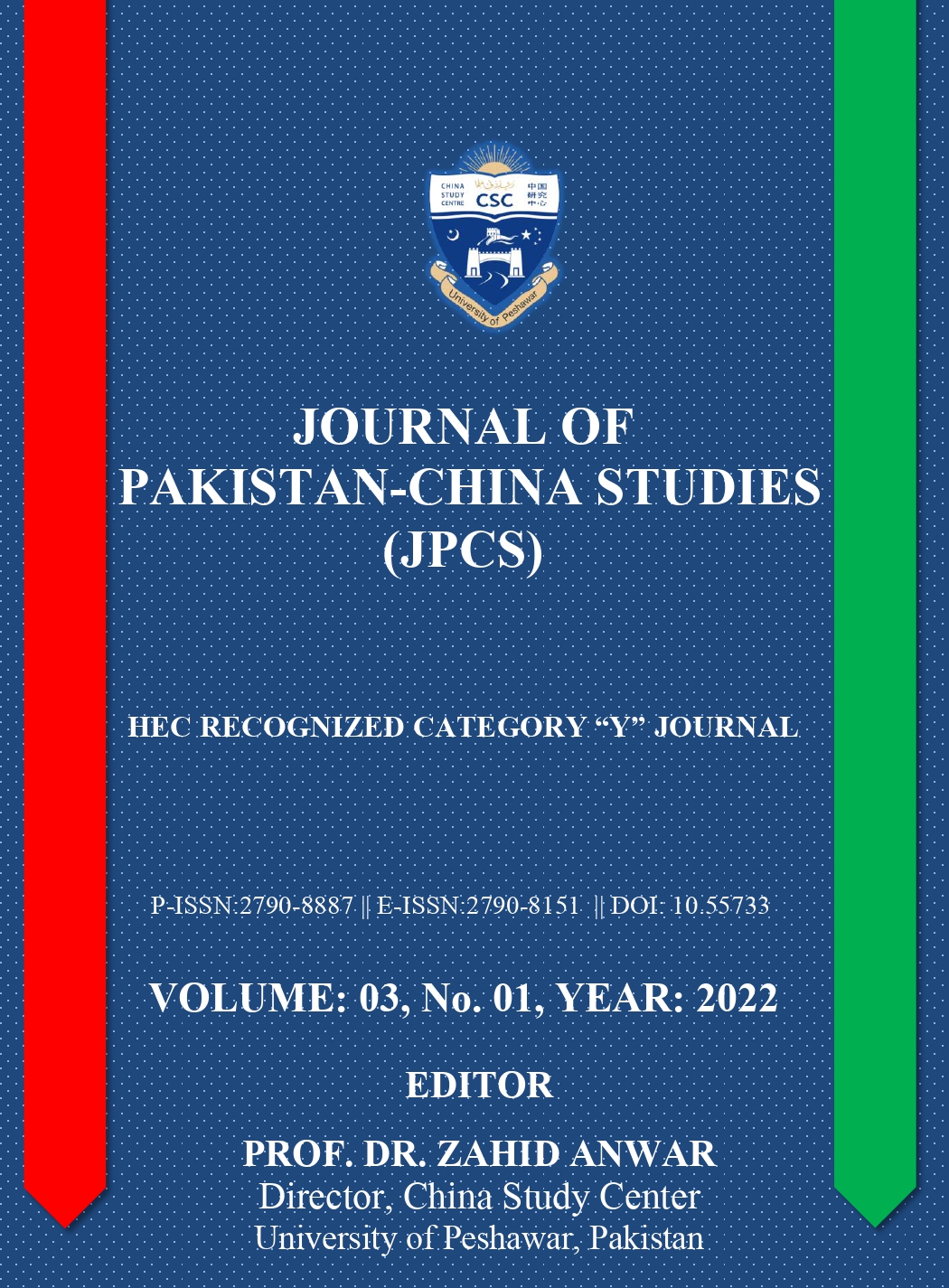 Additional Files
How to Cite
Minxing, H. M., & Sayed, M. (2022). CHINA-PAKISTAN ECONOMIC CORRIDOR AND GEOSTRATEGIC DEVELOPMENT IN THE MIDDLE EAST. Journal of Pakistan-China Studies (JPCS), 3(1), 37–52. https://doi.org/10.55733/jpcs.v3i1.50
License
Copyright (c) 2022 Journal of Pakistan-China Studies (JPCS)
This work is licensed under a Creative Commons Attribution-NonCommercial 4.0 International License.