CHINA PAKISTAN ECONOMIC CORRIDOR: A VOYAGE TO SHARED DESTINY
Keywords:
Pakistan, China, Development, Benefits, Economy
Abstract
The development of numerous ventures which includes organizational structures, growths, and services, has been documented for the period of a long time as an essential part of the politics of the globe. It is quite evident that the centre of financial power is transforming from West to East. Belt and Road Initiative (BRI) has provided Pakistan and its surrounded countries with prominent opportunities through establishing and participating in the platform for masses in Central, West, South Asia, Middle East, and Africa. China Pakistan Economic Corridor (CPEC) is a flagship project that is part of BRI. CPEC is the typical appearance of the conjunction of geo-strategic and geo-economic benefits of the two partners. Whereas the contemporary financial prudence would fulfill the financial benefits of Pakistan and China to enhance the development through mutual benefit in organizational structures & would correspond the efforts to secure common adversaries in forthcoming. CPEC is the significant initiative to establish energy, highway, port infrastructure & to expand financial networks among both countries. As this initiative has been acknowledged in Pakistan and China but there are various problems which equal partners must deal with cooperation, devotion, hard work, and with use of magnificent skills. The paper focuses on the development of CPEC and the benefits that are accomplished by both states. It also shed light on the geostrategic importance of Pakistan. The economic corridor is highly valued by Pakistan, and it has been signified in the terms of mutual benefit of economic and political growth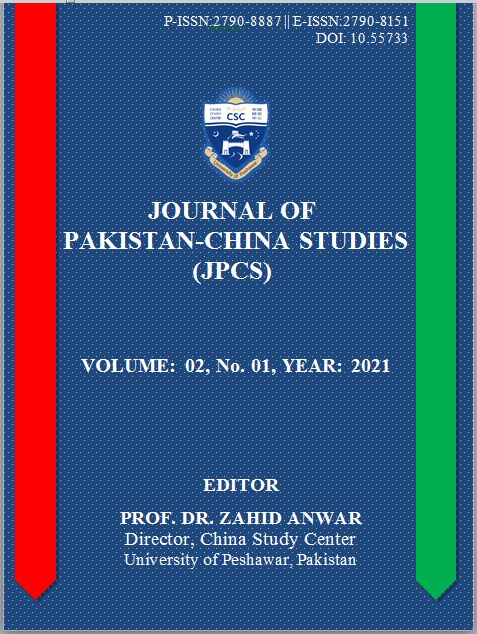 Additional Files
How to Cite
Sayed, M. (2021). CHINA PAKISTAN ECONOMIC CORRIDOR: A VOYAGE TO SHARED DESTINY. Journal of Pakistan-China Studies (JPCS), 2(1), 46–63. https://doi.org/10.55733/jpcs.v2i1.31
License
Copyright (c) 2021 Journal of Pakistan-China Studies (JPCS)
This work is licensed under a Creative Commons Attribution-NonCommercial 4.0 International License.