HIGH QUALITY DEVELOPMENT OF THE CHINA PAKISTAN ECONOMIC CORRIDOR AND RECONSTRUCTION OF THE GLOBAL GOVERNANCE SYSTEM
Abstract
In order to cope with the unprecedented changes in a century, the "Belt and Road" Initiative (BRI) co-construction project with the China-Pakistan Economic Corridor (CPEC) as the flagship has become an important carrier for economic growth and reconstruction of the global industrial chain and supply chain, which is leading the reconstruction of the global economic governance system. Anatomy of the internal relationship between the high-quality development of CPEC and global economic governance, analysis of the important value of the corridor to the stable development of regional economic society and its internal driving force for stable and long-term development, and clarification of the internal mechanism of corridor investment operation and the global industrial chain and supply chain reconstruction will help to further promote the co-construction of BRI and provide useful reference for building an open, linked and more inclusive world economy and jointly building Human Community with a Shared Future with political mutual trust, economic integration and cultural tolerance
References
United Nations Development Summit: Transforming Our World: The 2030 Agenda for Sustainable Development, 25 September 2015.
Zhao Minghao: Analysis on the balance situation of the United States against the "Belt and Road" in the context of great power competition, world economy and politics, 2018, issue 12.
Robert Art, translated by Guo Shuyong: American Grand Strategy, Beijing: Peking University Press, 2005.
Wang Peng: "Hedging" and "Wedge": The Endogenous Logic of the U.S. "Indo-Pacific" Strategy: The Perspective of Neoclassical Realism," Contemporary Asia Pacific, No. 3, 2018.
Wang Xu, Lin Yiming: "Construction of the China-Pakistan Economic Corridor in the Changing Situation", "South Asia Studies", No. 2, 2022.
https://chellaney.net/2017/01/25/China's-Debt-Trap-Diplomacy/.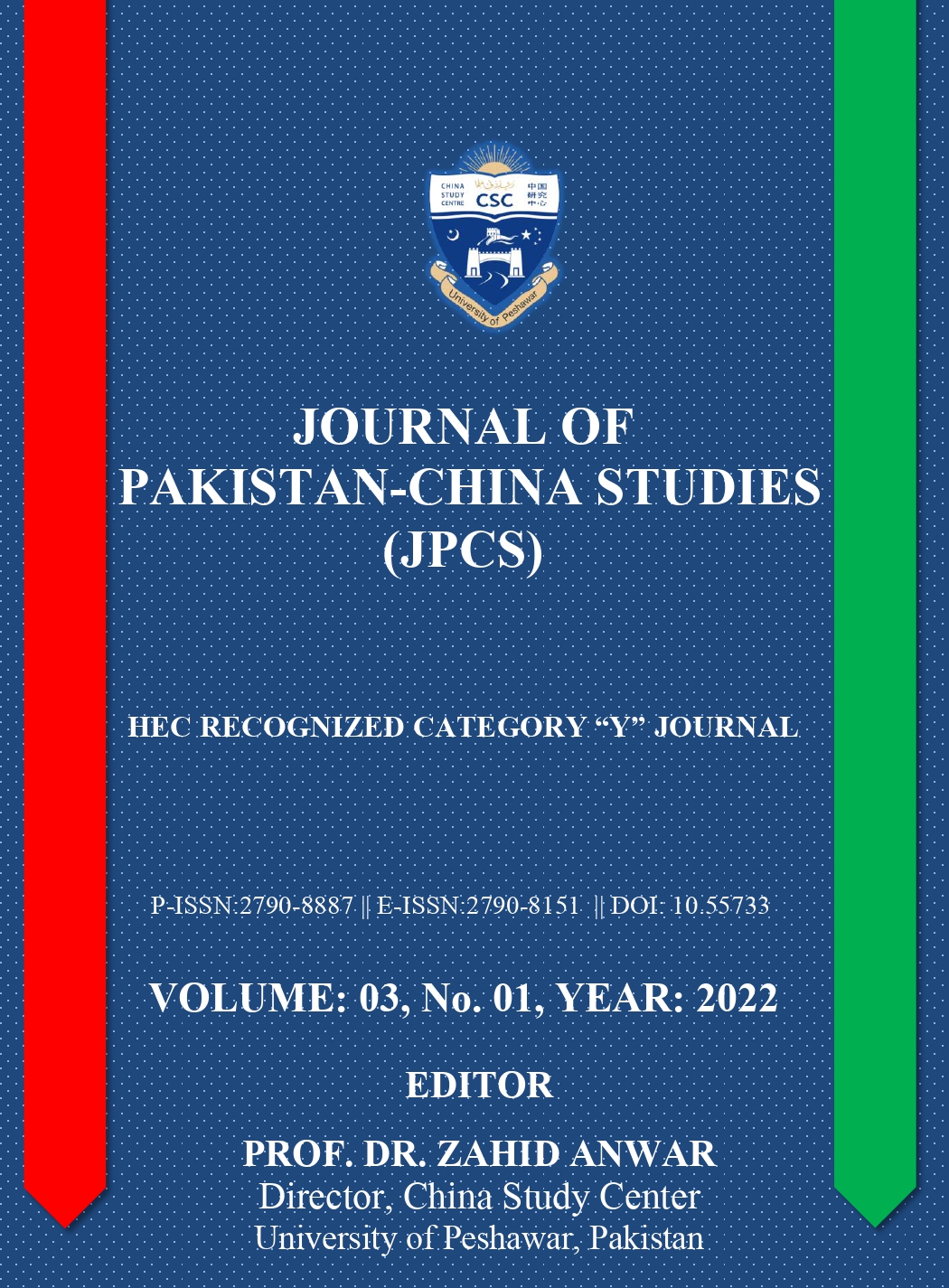 Additional Files
How to Cite
Ruihua, D. C. (2022). HIGH QUALITY DEVELOPMENT OF THE CHINA PAKISTAN ECONOMIC CORRIDOR AND RECONSTRUCTION OF THE GLOBAL GOVERNANCE SYSTEM. Journal of Pakistan-China Studies (JPCS), 3(1), 1–17. https://doi.org/10.55733/jpcs.v3i1.47
License
Copyright (c) 2022 Journal of Pakistan-China Studies (JPCS)
This work is licensed under a Creative Commons Attribution-NonCommercial 4.0 International License.