FORECASTING LINEAR DYNAMICS OF SINO-PAK RELATIONS (2023-2038)
Abstract
The relations between China and Pakistan have frequently been compared to the Himalayas in height, the Indian Ocean in depth, and even the relationship between brothers in terms of sweetness. The relationship between China and Pakistan has often been referred to by its leaders as a "all-weather friendship.". However, in the final analysis relations between and among states are determined by respective national interests, or, to put it another way, by reason rather than passion. The framework of national interest must therefore be used in any analysis of Sino-Pak relations. In order to forecast where Sino-Pak relations will be in the next 10years, the article gives an overview of Sino-Pak relations using a linear paradigm. The article has two sections. The first section charts out the trajectory of incumbent relations and its foreshadowing ties between the two countries in the third term of President Xi Jinping. The second sections more closely focuses on the trajectory of relations over 10 year period.
References
Dominguez, G. (2022, April 5). Growing ties between Pakistan and China raise concern in Washington and New Delhi. The Japan Times. https://www.japantimes.co.jp/news/2022/04/04/asia-pacific/politics-diplomacy-asia-pacific/china-pakistan-military-ties/
Emma Farge. U.N. body rejects debate on China's treatment of Uyghur Muslims in blow to West. Reuters October 7, 2022
Gupta, S. (2020, September 9). Strategic Paris-Delhi-Canberra axis gets off to a flying start amid China tension. Hindustan Times. https://www.hindustantimes.com/india-news/strategic-paris-delhi-canberra-axis-gets-off-to-a-flying-start-amid-china-tension/story-NCGSsM222KMyoZXxpEGnwJ.html
Haqqani, H., & Ahmad, J. (2022, August 2). The Folly of Pakistan's China Gamble. Foreign Affairs. https://www.foreignaffairs.com/china/folly-pakistans-china-gamble
IISS. (2018, June 1). Narendra Modi: IISS Shangri-La Dialogue 2018 keynote speech [Video]. YouTube. https://www.youtube.com/watch?v=M85PTqWISYI
Jervis, R. (1998). System effects: Complexity in political and social life. Princeton University Press.
Kardon, I. B., Kennedy, C. M., & Dutton, P. A. (2020). China Maritime Report No. 7: Gwadar: China's Potential Strategic Strongpoint in Pakistan (CMSI China Maritime Reports. 7). China Maritime Studies Institute, U.S Naval War College. https://digital-commons.usnwc.edu/cmsi-maritime-reports/7/?utm_source=digital-commons.usnwc.edu%2Fcmsi-maritime-reports%2F7&utm_medium=PDF&utm_campaign=PDFCoverPages
Kiel, L. D., & Elliott, E. W. (1997). Chaos theory in the social sciences: Foundations and applications. University of Michigan Press.
Mangi, F. (2022, September 2). China's Funding to Pakistan Stands at 30% of Foreign Debt. Bloomberg. https://www.bloomberg.com/news/articles/2022-09-02/china-s-funding-to-pakistan-stands-at-30-of-foreign-debt
Ramachandran. (2022, June 10). India makes its relationship with the Taliban regime more official. The Diplomat. https://thediplomat.com/2022/06/india-makes-its-relationship-with-the-taliban-regime-more-official/
Shah, S. (2018, September 12). Pakistan pushes China to realign goals in its belt-and-Road initiative. WSJ. https://www.wsj.com/articles/pakistan-pushes-china-to-realign-goals-in-its-belt-and-road-initiative-1536773665
Times of India. (2023, January 10). Did ex-Pakistan army chief Bajwa pursue backdoor diplomacy channels with India? The Times of India. https://timesofindia.indiatimes.com/india/did-ex-pakistan-army-chief-bajwa-pursue-backdoor-diplomacy-channels-with-india/articleshow/96888655.cms
Ungku, F., & Kim, J. (2018, June 1). Narendra Modi calls for unimpeded trade, access in Indo-Pacific, cautious on China. Reuters. https://www.reuters.com/article/asia-security-idINKCN1IX566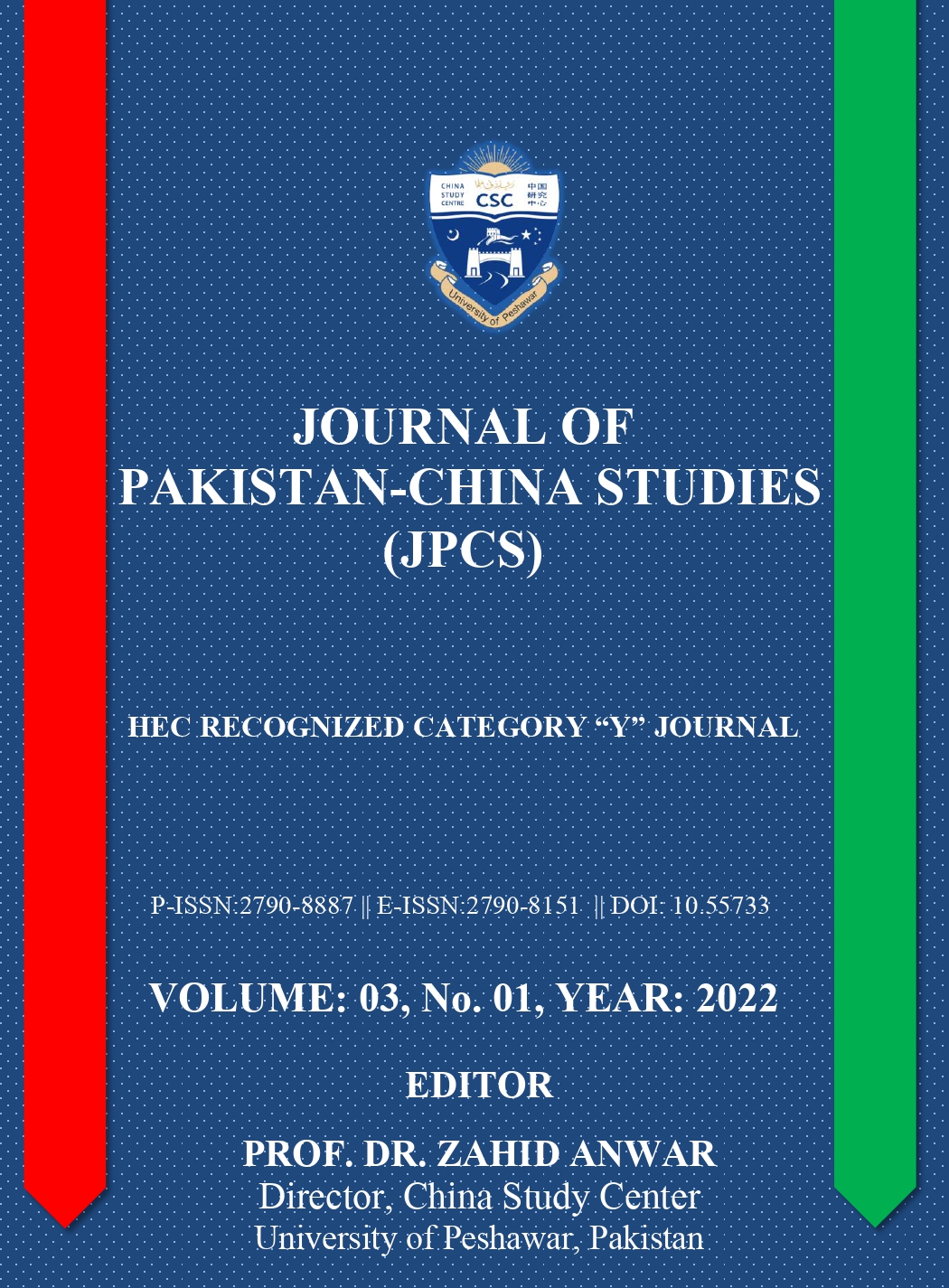 Additional Files
How to Cite
Ali, D. Y., Qazi, R. R. K., & Khan, I. (2022). FORECASTING LINEAR DYNAMICS OF SINO-PAK RELATIONS (2023-2038). Journal of Pakistan-China Studies (JPCS), 3(1), 87–101. https://doi.org/10.55733/jpcs.v3i1.46
License
Copyright (c) 2022 Journal of Pakistan-China Studies (JPCS)
This work is licensed under a Creative Commons Attribution-NonCommercial 4.0 International License.