DEVELOPMENT OF XINJIANG AND GWADAR PORT
Keywords:
: Xinjiang, Gwadar port, trade, energy resources, go west policy
Abstract
There is no denying to the significance of natural resources in the growth of the economy. There is not much that can be done in the economic sphere without sufficient raw materials. This is the rationale behind prioritising the extraction of natural resources from conveniently accessible places over those that require more effort. China follows the same model and has high-speed expansion in coastal regions, leaving inland regions in the dust. Rich in energy resources Xinjiang is ready for the booming development like the other regions of China. However, the major challenge in this development is "Sea port". Abundant in energy sources, Xinjiang, like the other areas of China, is prepared for rapid development. However, "Sea port" is the main obstacle to its development. Xinjiang is one of China's most ecologically sensitive regions since it is one of the driest locations and is the furthest away from any ocean or sea. China aims to connect Xinjiang to global markets through Pakistan's Gwadar port in order to promote rapid economic development. In actuality, China is interested in expanding Gwadar port for economic reasons. The growing importance of Central Asia's oil resources, China's rising energy needs from the Persian Gulf, and China's "go west" programme for its western area are among the reasons for China to assist Pakistan in the development of Gwadar port. The paper argues that China will choose Gwadar port as a gate way for import and export of Xinjiang's products instead of its own faraway eastern ports.
References
Bovingdon, Gardner. 2010. The Uyghurs: Strangers in Their Own Land. New York: Columbia University Press
Cho, S., & Turner, J. (2021). The Economics of Repression: The Belt and Road Initiative, COVID-19, and the Repression of Uyghurs in Xinjiang. Journal of Indo-Pacific Affairs, Air University Press, 4(2), 94-98.
Facts about Xinjiang's economy and people's livelihoods available on: https://news.cgtn.com/news/2022-09-03/Graphics-Facts-about-Xinjiang-s-economy-and-people-s-livelihoods-1cwdGenu2Gc/index.html
Farhad, L. A. (2015). China's Internal Migration Woes. International Affairs Review, US-China Policy Special Issue, 01-04.
Gul, S., Khan, A., & Alam, A. (2020). China's Built and Road Initiative: Challenges and Opportunities in Xinjiang. Global Economics Review, V(II), 75-88. https://doi.org/10.31703/ger.2020(V-II).06
Haider, Z.(2005). Sino-Pakistan Relations and Xinjiang's Uighurs: Politics, Trade, and Islamalong the Karakoram Highway. Asian Survey, 459( 4),522-545
History and Development of Xinjiang(2015).Chinese Govt White Paper.available athttp://www.china-embassy.org/eng/zt/zfbps/t36557.htm
Houreld,K.(20 April,2015). China and Pakistan launch economic corridor plan worth $46 billion. Business News. Retrievedfrom https://www.reuters.com/article/us-pakistan-china/china-and-pakistan-launch-economic-corridor-plan-worth-46-billion-idUSKBN0NA12T20150420
Hsieh, Ch.,Mand Falkenheim V, C.(2014). Xinjiang Autonomous region, China. Retrieved from http://www.britannica.com/place/Xinjiang
Jamal, N. S. (2011). China's Xinjiang Policy: An Analysis Based On The Theory Of Relative Deprivation. Malaysian Journal of History, Politics, & Strategic Studies, 147-166.
Kai, J. (2014). China's Two-Front Diplomacy: 'Go West' and 'Leap East. Retrieved fromhttps://thediplomat.com/2014/09/chinas-two-front-diplomacy-go-west-and-leap-east/
Khan, S. A.(2013). Geo-Economic Imperatives of Gwadar Sea Port and Kashgar Economic Zone. Islamabad Policy Research Institute. XIII(2), 87-100
Kumar, S.(2009). The Roots of China's Xinjiang Problem.Indian Council of World Affair.
Li, Y., Ni. C., and Zhao X.(2008). The Status Quo and Prospects of Regional Economic Cooperation between China's Xinjiang and Neighboring Countries under the Framework of the Shanghai Cooperation Organization, International Journal of Business and Management.3(1), 131-137
Methew D.M. ( 2003). China;s Great Development Project in Xinjiang:EconomicPalliatve or Political TorjanHourse.Denver Journal of International Law and Policy,31(3), 491
Millward, J. (2006). Violent Separatism in Xinjiang: A Critical Assessment accessed on 10 July 2009, Retrieved fromwww.eastwestcenter.org/fileadmin/stored/pdfs/PS006.pdf
Moneyhon M.,D.(2003). Taming China's "Wild West": Ethnic Conflict in Xinjiang, An Interdisciplinary Journal,5(5), 2–23.
Phanishsarn, A(2006).Economic implications of China's "Go-West" policy: a view from Thailand.ASEAN Economic Bulletin, 23(2),253-265
Sui Southern Gas Companyat the Pak-China Energy Forum(2006), available at www.ssgc.com.pk/ ssgc/media_center/presentation/pdf/karakoram.pdf
Tellis A. J., and Mirsiki S. (2013).Crux of Asia:China,India and the emerging global order.CarnegieEndownment of International peace.Washington DC.
Liu, A. H., & Peters, K. (2017). The hanification of Xinjiang, China: the economic effects of the great leap west. Studies in Ethnicity and Nationalism, 17(2), 265-280.
Trading Economics(2017). China Foreign Direct investment from 1997 to 2017. Retrieved from https://tradingeconomics.com/china/foreign-direct-investment
Tsung, Linda. 2009. Minority Languages, Education and Communities in China. Basingstoke: Palgrave Macmillan.
Tursun H., Wenhu Y., and Haiyan M.( 2000). Great exploitation of the west and the basic thoughts of the great development strategy of Xinjiang.Arid Land Geography, 23(3): 193–196.
Wong,B.(2016).A Belt and Road Development Story: Trade between Xinjiang and Central Asia. Retrieved from http://hkmb.hktdc.com/en/1X0A5F0R/hktdc-research/A-Belt-and-Road-Development-Story-Trade-between-Xinjiang-and-Central-Asia
Xiaoying, L and Emily, H.(2017). Early poverty exposure predicts young adult educational outcomes in China. China Economic Review.44(C),79-97
Xinhua( December 27,2016).New five-year plan brings hope to China's west.StateConcil People's Republic of China, Retrieved from http://english.gov.cn/premier/news/2016/12/27/content_281475526349906.htm
Xinjiang to Become China's 2nd Largest Oil Production Center( December 2, 2000). People's Daily. Available at .
Yan, S.(2014). The Roots of China's Ethnic Conflicts:Current History; Philadelphia, Vol. 113, Iss. 764, : 231-237
Yusuf, H. (2020, july friday). Silence won,t Play. DAWN, pp. 5-6.
Zakria, R. (2020, september sunday). Lost in Xinjiang. DAWN, pp. 22-23.
Zenn, J. (2018). Beijing, Kunming, Urumqi and Guangzhou: The Changing Landscape of Anti-Chinese Jihadists. jamsstone Foundations, 4-8.
Zenn, J. (2018). Beijing, Kunming, Urumqi and Guangzhou: The Changing Landscape of Anti-Chinese Jihadists. jamsstone Foundations, 4-8.
Zhihong W., and Weihua M.,(August 17,2010), Xinjiang to boost infrastructure, China Daily available athttp://www.chinadaily.com.cn/china/2010-08/17/content_11162077.htm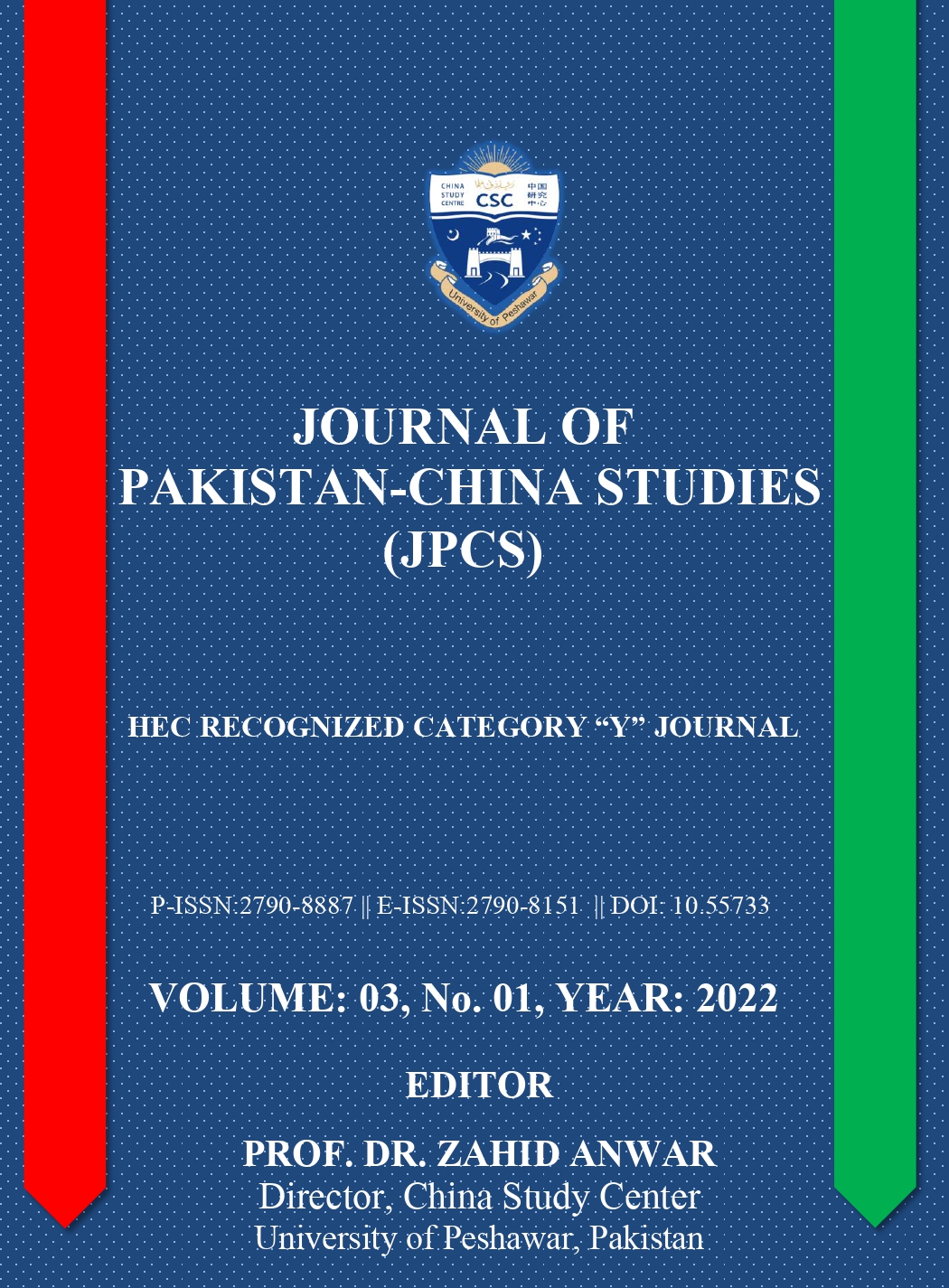 Additional Files
How to Cite
Takrim, D. K., Kamran, D. M., & Mumtaz, D. M. (2022). DEVELOPMENT OF XINJIANG AND GWADAR PORT. Journal of Pakistan-China Studies (JPCS), 3(1), 116–130. https://doi.org/10.55733/jpcs.v3i1.40
License
Copyright (c) 2022 Journal of Pakistan-China Studies (JPCS)
This work is licensed under a Creative Commons Attribution-NonCommercial 4.0 International License.