CHINA GEO-POLITICAL CONTOURS IN AFGHANISTAN
Abstract
Afghanistan as pivotal in this region as it provides a land bridge between Greater Central Asia northern and southern parts and between Middle East and Greater Central Asia as well. The US intervention in Afghanistan has opened a channel for Beijing geo-political objectives in Afghanistan. China's economic interests are connected with Afghanistan and investing in Afghanistan's infrastructure development but threats from Islamic extremism has inundated the region which has been infested into Xinjiang province with enhanced drug trade. This research investigates the interests of China through analytical and qualitative approaches. China's interests in Afghanistan revolve around various geo-political imperatives. China has longer presence and investment plans in Afghanistan because Afghanistan has huge oil and natural gas reserves in northern part. Besides, China wants an access to natural gas supply of Central Asia and Afghanistan. China is interested in stable Afghanistan that has military capability to secure its borders. For regional aspiration China is to counter United States hegemonic designs. Besides, the other significant contour is having foothold in Pakistan especially through strategic designs in Balochistan.
References
Alamgir, M. (2011, September 16) Strategic Importance of Gwadar Port for Pakistan.
International Relations.
Bao, Q. Z. (1999, March 13) The Realities to Be Faced in China in the Wake of the Dramatic
Changes in the USSR and Strategic Choices. FBIS-CHI Daily Report Annex. p. 1.
Becquelin, N. (2004, June) Staged Development in Xinjiang. China Quarterly, Vol. 178. pp. 358-
BP Statistical Review of World of World Energy. (2012, June). Full Text Online at
http://bp.com/statisticalreview
Broomfield, V. E. (2003, May) Perceptions of Dangers: The China Threat Theory. Journal of
Contemporary China 12 (35) pp. 265- 84.
Coll, S. (2004) Ghost Wars: The Secret History of the CIA, Afghanistan and Bin Laden from
Soviet Invasion to, 2001. (New York: The Penguin Press). p. 66.
Curtov, M and Hwang, M.B. (1998) China's Security: The New Roles of Military ( Boulder: CO
and London: Lynne Rienner)pp. 66-67.
Fallow, J. (2012) Chinese Airborne (New York: Pentheon), p. 190.
Franks, T. (2004) American Soldiers (New York: Regan Books) pp.281, 286-287.
Feng, H. (2007) Chinese Strategic Culture and Foreign Policy Decisionmaking (London:
Routledge) ch.2. p. 27.
Fueller, G. and Starr, F. (2003) The Xinjiang Problem. (Central Asia Caucasus Institute, Johns
Hopkins University) p. 9.
Hopkirk, P. (1994) The Great Game: the Struggle for Empire in Central Asia (Tokyo: Kodonsha
International).
Lattimore, O. (1940) Inner Asian Frontiers of China (Boston, MA: Beacon Press)p. 171.
Mark, B. (1999). Chinese Policy Towards Russia and the Central Asian Republics. Santa
Monica, CA, RAND Corporation. p. 5.
Mark, B. (1999) Chinese Policy Towards Russia and the Central Asian Republics, Santa Monica,
CA, USA, RAND Corporation. p. 9.
Mead, R. W. (2004, March/April) America Sticky Power. Foreign Policy 83(2) pp. 46-53.
Mughal, O. (2009, January 14). Gwadar Port: A Great Development Project or a Great Game?
Pant. V. H. (2012, Winter) 'The Pakistan Thorn in China-India-US Relations' Washington
Quarterly 35, no. 1. p. 86.
Pirani, S. (2012) Central Asian and Caspian Gas Production and the Contraints on Exports. The
Oxford Institute for Energy Studies. p. 129.
Strategy," Xiandai Guoi, appearing as "Post-Cold War Security Strategy Examine", World
NewsConection.
China's Foreign Affairs (2003) (Beijing: Department of Policy Planning, Ministry of Foreign
Affairs, PRC), pp. 62-63.
Roberts, J. (2003) Caspean Oil and Gas: How far have We Come and Where are We Going in Sally Cummings (ed), Oil, Transition and Security in Central Asia (New York: Routledge
Curzon)
Small, A. (2015) China Pakistan Axis: Asia New Geopolitics. New York: Oxford University
Press.
Swanstrom, N. (2002) China and Xinjiang after September 11. Nordic Institute for Asian Studies
no. 3.
Swanstrom, N. (2001) China Conquers Central Asia through Trade Analyst (Johns Hoplins
University SAIS).
wang, K. Y. (2010) Harmony and War: Confucian Culture and Chinese Power Politics (New
York: Columbia University Press), p. 178.
Xuetong, Y. (1995, November 07). "Economic Security, Good Neighbor Policy Emphasized in
Post-Cold War Security
Xu, X. (2000) Oil and Gas Linkages between Central Asia and China.
Xinwen, Z. (1998, January 21) Chinese Think-Tank on Central Asia, NATO. She News Agency
in BBC Summary of World Broadcasts. p. G/2.
Woodward, B. (2003) Bush at War (New York, Siman and Shuster, 2003)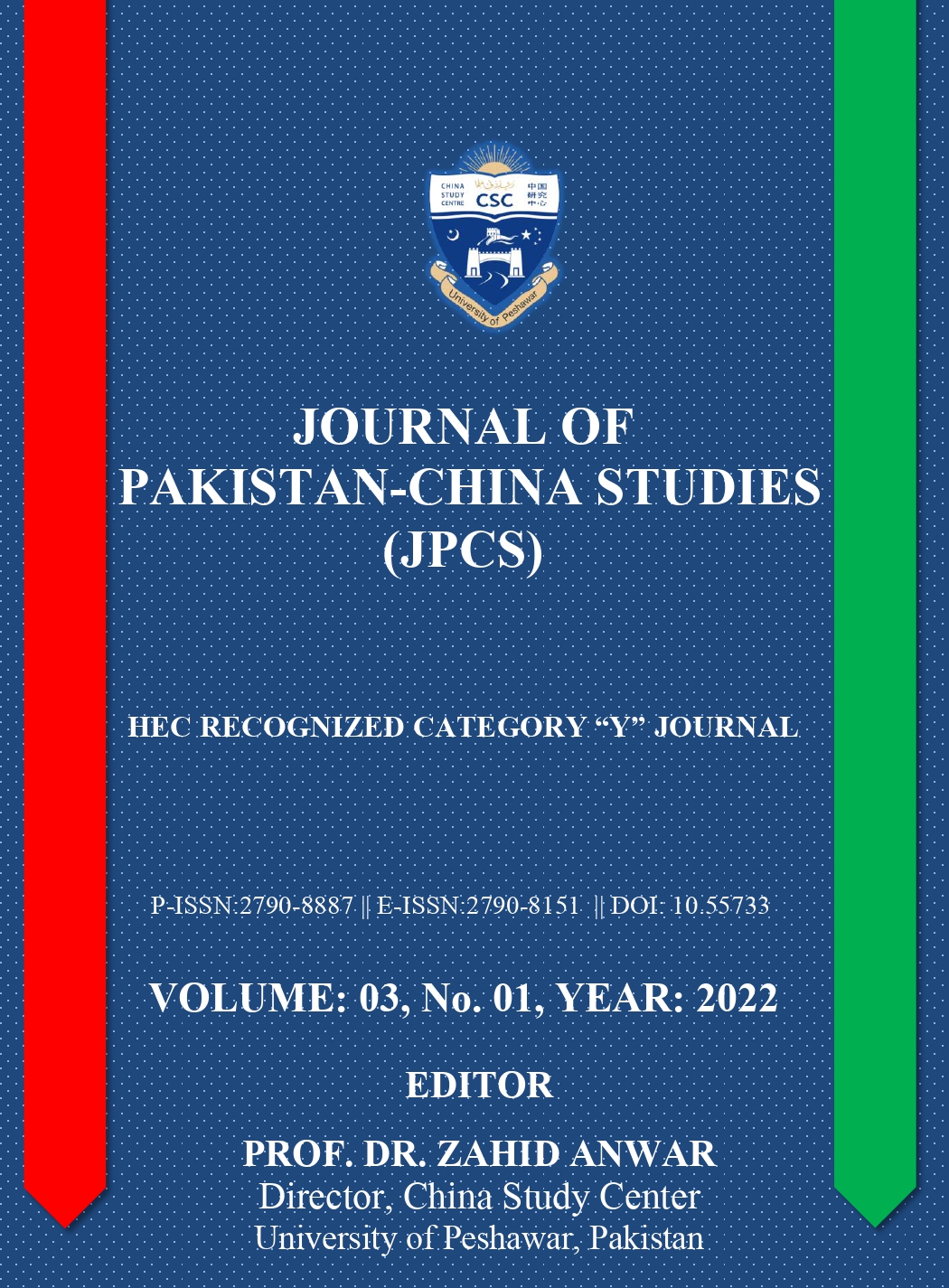 Additional Files
How to Cite
Parveen, D. S. (2022). CHINA GEO-POLITICAL CONTOURS IN AFGHANISTAN. Journal of Pakistan-China Studies (JPCS), 3(1), 102–115. https://doi.org/10.55733/jpcs.v3i1.37
License
Copyright (c) 2022 Journal of Pakistan-China Studies (JPCS)
This work is licensed under a Creative Commons Attribution-NonCommercial 4.0 International License.