CHINA PAKISTAN ECONOMIC CORRIDOR: A WIN-WIN APPROACH IN A ZERO-SUM REGIONAL ENVIRONMENT
Abstract
Pakistan, due to its geostrategic existence, became a fulcrum of the massive Belt and Road Initiative (BRI) through CPEC. The project is anticipated to bring socio-political and economic stability in the region. The project is supposed to revitalize the historical Silk Rout to knock down the social, political, and economic hindrance among Asia, Africa, and Europe. This revolutionary and hi-tech Win-Win enterprise is professed as "the harbinger of a new epoch of congruence and integration" (Mehmood & Sabir, 2020) for Pakistan. CPEC is intended to unlatch many commercial routes across China, South and Central Asia, the Middle east and European region. China is going to have quicker and accessible trade rout with Persian Gulf and other resourceful regions. Pakistan would have enhanced economic stability through Gawadar Port Projects, infrastructural development, economic zones, technological assistance, and other energy generating arrangements. This paper tends to discuss the rudiments of CPEC with the geopolitical and strategic reputation considering the zero-sum unipolar world. It throws light over social, political, and economic dimensions of the project with the consideration of political development and policy consistency of the region. The trade deficit and antidots through CPEC between China and Pakistan with the inclusion of other neighbouring States would be addressed. Hurdles and security constrictions regarding the corridor are highlighted and research based conceivable suggestions have proposed which the governments of both the countries ought to consider.
Keywords: BRI, CPEC, Win-Win scenario, Silk Rout, Trade Deficit, Gawadar Port Project, Persian Gulf, zero sum game. Meritime Routs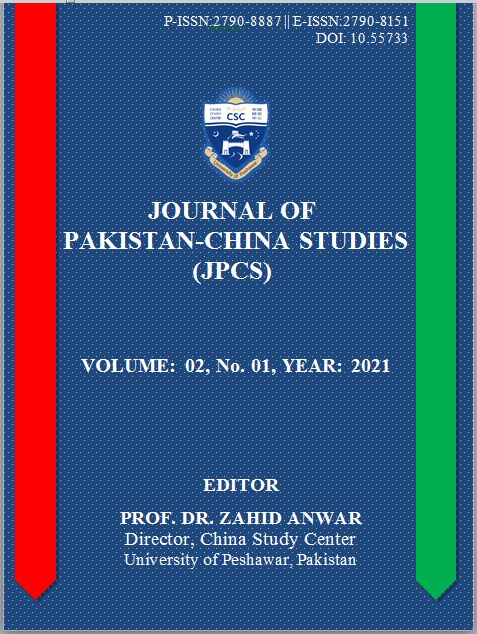 Additional Files
How to Cite
Syed, Z., & Dr Aamer Raza. (2021). CHINA PAKISTAN ECONOMIC CORRIDOR: A WIN-WIN APPROACH IN A ZERO-SUM REGIONAL ENVIRONMENT. Journal of Pakistan-China Studies (JPCS), 2(1), 22–45. https://doi.org/10.55733/jpcs.v2i1.25
License
Copyright (c) 2021 Journal of Pakistan-China Studies (JPCS)
This work is licensed under a Creative Commons Attribution-NonCommercial 4.0 International License.